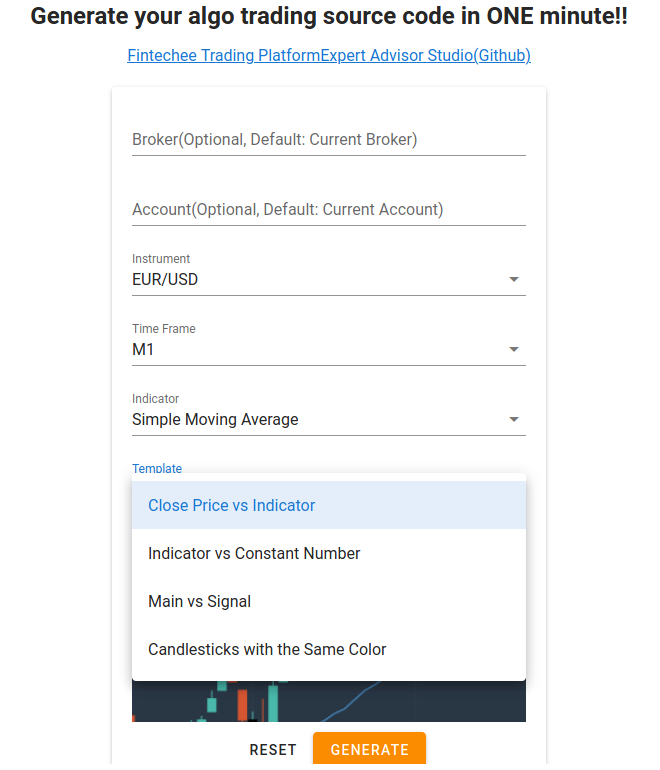 This trading tool is a Source Codes Generator used to generate Javascript-based source codes by specifying the patterns of trading strategies and rules. It simplifies the process of coding Expert Advisor. The expert advisor coded by 200 or 300 lines can be generated automatically. It will just take you one minute to set up the patterns of trading strategies and rules. It can save a lot of time to develop trading robots.
Extensions for Fintechee Trading Platform are comprised of Fintechee's plugins and free services. They help traders get more benefits by using Fintechee's WEB Trader or Expert Advisor Studio. The plugins can help to make other brands integrated with Fintechee. If you have developed some products that are based on other brands, you can make them usable on Fintechee as well. Then you can save a lot of costs to migrate and retain your old tools. If you are working as a freelancer, the expert advisors and custom indicators that you developed for your clients can be reusable.
They are all for free and open-sourced(MIT license), you can access our Github repository to get the source codes and modify, distribute them freely.
---
Language
---
Prerequisites
---
Use Cases (Some scenarios when our products can be helpful)
I'm not familiar with programming. Can I use Fintechee without coding even a line of source code?
I'm a programmer, but I don't know how to code Javascropt-based programs. How can I code the programs without a steep learning curve?
I have a trading strategy based on the "Cross" points between the market movements and the moving average line. How can I generate a program in one minute?
---
Usage
Please access the website(https://www.nonmql.com) and follow the wizard step by step.
We provide source codes as well. If you are interested, please feel free to modify and try it on your own.
---
Price
Free and open-sourced.
---
Documents
If you want to get notified about our updates, please subscribe to our free newsletter.