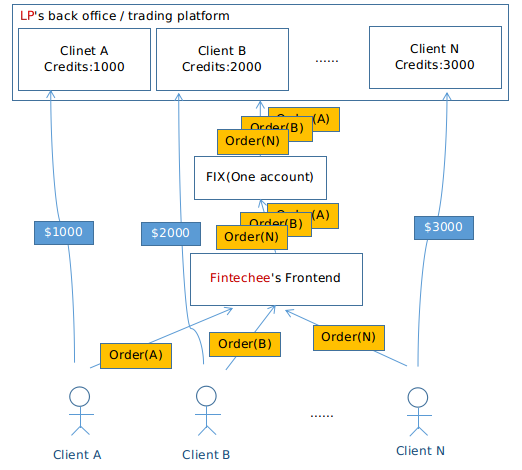 Introducing Broker (IB) stands for an industry term for a Forex Broker. An introducing broker is a brokerage firm that deals directly with the client(trader), while the back-office work and trade execution is the responsibility of a Forex broker or a liquidity provider.
As a tech provider, Fintechee provides brokers with White Label which authorizes brokers to use Fintechee's WEB Trader which serves as a Forex trading platform. Fintechee's WEB trader includes a frontend package and a backend package.
The frontend has the features to make traders able to use Automated Forex Trading and Trading Simulation. The backend has the features to make the order router management connect with multiple liquidity providers via the FIX API Trading Platform. This feature is the so-called Price Aggregator. It integrates with the FIX API Trading Platform to aggregate different quote sources.
The biggest advantage of signing a white label agreement with Fintechee is that the introducing brokers can make their brands show up on the WEB trader's logo position. Behaving like the owner of the WEB trader can help the introducing broker build more credibility and become more competitive.
We have cooperated with more than 20 Liquidity Providers. And We have done testing the connectivities with all of them. "LMAX Exchange", "Swissquote" and "ATC Broker" are the three liquidity providers who support this kind of cooperation. "FXCM" supports FIX API based MAM technically, but we need to wait for the allowance of compliance.
We can help you first connect with our liquidity provider partners, but not limited to them. ANY liquidity provider can be connected via our FIX API trading platform.
You can specify your favorite liquidity providers as long as they support this kind of cooperation. Let's learn more introducing broker features.
---
Business Model
Please note that an individual can be an introducing broker as well.
An introducing broker can onboard by doing the following steps:
Sign the white label agreement with us to get authorized to use our WEB trader.
Sign the introducing broker agreement with a liquidity provider.
After a client(trader) deposits, we will synchronize the corresponding credits for the client on our WEB trader's dashboard(back office).
---
Features
Please read the introductions to know more features of our product.
---
Liquidity Provider
Please check this material to know the liquidity providers who cooperate with us: Liquidity Provider.
---
Specialties of Our Liquidity Provider Partners
Our liquidity provider partners all have their own specialties.
"LMAX", "Swissquote" and "ATC Brokers" provide FIX API based MAM and Shared FIX API that make introducing brokers white-labelable.
"FXCM" supports FIX API based MAM technically, but we need to wait for the allowance of compliance.
We reached 3 more liquidity providers that support FIX API based MAM. Now we are discussing how to cooperate.
"Exante" provides Cryptocurrency FIX API that makes crypto OTC broker be able to be built.
"FXCM" and one another liquidity provider even provide a kind of FIX API connectivity that supports Spread Betting.
So, you can get a unique trading experience only here.
---
Pricing
| Features | FIX API Based MAM / IB | Other Plans |
| --- | --- | --- |
| Brand | ⭕ | |
| SDK Trading | ⭕ | |
| Custom Indicator | ⭕ | |
| Expert Advisor | ⭕ | |
| Backtesting | ⭕ | |
| Trading Simulator | ⭕ | |
| Parameters Optimizer | ⭕ | |
| Streaming Quotes | ⭕ | |
| Historical Data Downloading | ⭕ | |
| Multiple Accounts Management | ⭕ | |
| Multiple Charts System(WEB Based) | ⭕ | |
| Artificial Intelligence Integration | ⭕ | |
| FIX Engine | ⭕ | |
| Trade Positions Management | ⭕ | |
| Order Router Management | | |
| Price Aggregator | | |
| RESTful API | | |
| Dashboard(Back Office) | | |
| Tech Support | ⭕ | |
| Hardware | ⭕ | |
| Network Traffic | ⭕ | |
| Monthly Maintenance Fees | $0 | |
| One Time Installation Fees | $0 | |
| Monthly Volume(All Sub-Accounts) | > 200 Lots | |
| Money-Back Guarantee | | |
| | Contact Us | Customize |
| | Be Our Reseller | Be Our Affiliate |
---
Why Choose Fintechee?
I had some experience to work as an introducing broker(IB) before. To be honest, it was not that easy. Why? Because in the market map, there is no spare position for IB. Why is it necessary for the market to pay money for a redundant role?
Let's see what IB is doing.
Agent to do paperwork of creating a new account for an individual trader.
Promoting brokers on their website by exhibiting ads.
Cashing back a part of the IB fee to individual traders as an incentive.
This kind of work is too simple to do. Any common person can do and replace them so that the role of IB is tough. Then, how to improve the value of IB? Some IBs created trading channels or schools to make newbies subscribe or opened their trading records to their followers to make them copy trade. That's a good idea. But there is still a problem. It takes time to verify whether you are a good teacher or whether your trading strategy is good.
Why not get the Forex broker white label partnership or why not start a broker? The answer is that the cost is too high. The commission and the markup that IBs get paid by brokers can't cover the initial funds to start as a broker.
That's why we recommend them to cooperate with us. Both of us will get benefit from sharing our resources and advantages. IB's market activities promote Fintechee's WEB trader. Fintechee authorizes IBs to expand their business by using our WEB trader and to show their brands on our WEB trader. Except for deposit/withdrawal, IBs behave like brokers and are not that easy to be replaced anymore.
If you have interest in cooperate with us, please contact us.
If you want to get notified about our updates, please subscribe to our free newsletter.