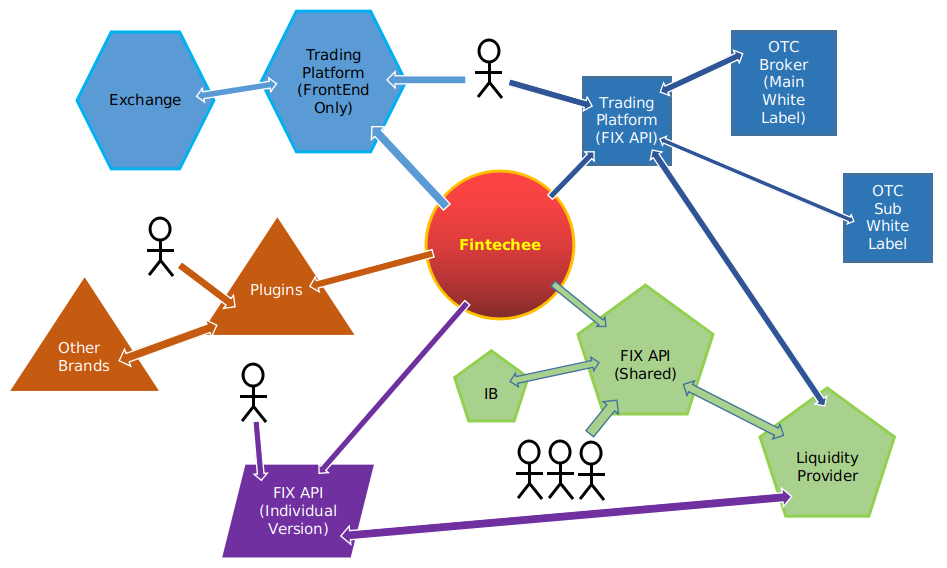 This post describes Fintechee's ecosystem. 20+ liquidity providers cooperating with Fintechee. Fintechee's backend supports FIX API and can integrate with any liquidity provider. As a Fintech company, Fintechee is focusing on Financial Technology Field and providing a FIX API-based trading platform White Label for financial institutions, such as Forex OTC brokers, DeFi, crypto exchanges(including CEX, decentralized exchanges, DEX). Fintechee also provides an all-in-one FIX API trading platform and an Expert Advisor Studio for individual traders.
The business model of Fintechee is very flexible. Fintechee tends to improve the extensibility of the FinTech field. This strategy makes our clients not limited to financial institutions. Any individual can also get benefits from the platform that Fintechee is building.
---
By using Fintechee, you can get the following benefits accordingly.
If You Play the Role as An OTC Broker
You can sign a Main White Label agreement with us and get authorized to build your own trading platform with your brand. We will integrate with the liquidity provider.
Then traders can trade on your platform. You can choose to trade with them as the counter-party(B-Book) or transfer the orders to the liquidity provider(A-Book).
The Hybrid mode is supported by our package as well.
Small brokerages can sign a Sub White Label agreement and get authorized to build their own trading platform with your brand as well. And then the licensee will share the FIX API resources with the main white label licensee.
Please check this page to know more details: White Label.
---
If You Play the Role as An Exchange
We have another product – XCoinCH to help you build a Cross-Chain Cryptocurrency Exchange or Clearing House.
Please access the website to know more details: XCoinCH.
---
If You Only Have Marketing Resources
We recommend you choose the Introducing Broker mode. We will build a shared FIX API trading environment for you.
The trader signs with the specified liquidity provider and get a new FIX API account. After you confirm that the trader has deposited enough margin to the account in the liquidity provider, you send the equivalent credits to the account in the shared FIX API trading environment.
Under this mode, you can have your own brand to serve as a real broker. And, because you don't hold the clients' funds(The liquidity provider holds the funds), so, you don't need to get a brokerage license, and getting regulated is NOT required.
Please check this page to know more details: Introducing Broker.
---
If You are an Individual Trader, but Your Monthly Trading Volume is High
You can download the FIX API Individual Version from our website. This trading environment is completely dedicated because it will be installed on your local PC.
We provide two plans for you. One is the "Free Plan", the other one is the "Pro Plan". There are almost no differences.
The "Free Plan" requires you to sign with the specified liquidity providers that cooperate with us and then finish the required monthly volume to keep the trading environment activated.
The "Pro Plan" is not for free. So, it doesn't require you to sign with our partners. Your old FIX API account(if you have one) can be available to use our software package.
Please check the following pages to know more details: Individual Trader and FIX API Individual Version.
---
Last but NOT Least
Because our services are mainly for institutions, so, you might not find the entry point to start using our products.
No problem, you can still use our Expert Advisor Studio. It's a suite with a lot of plugins. All for free! No required monthly volume as well.
We create the repository in Github.
You can find them and our latest updates via the following links:
If you have any questions, please contact us via email.
If you want to get notified about our updates, please subscribe to our free newsletter.