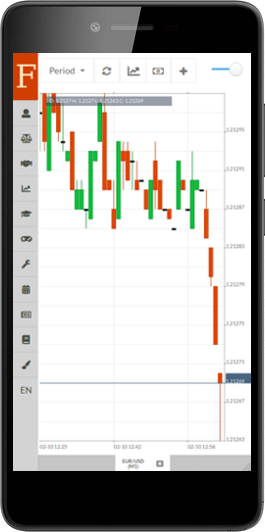 The Forex market is a global over-the-counter(OTC) market for the trading of currencies. This market determines foreign exchange rates for every currency. In terms of trading volume, it is by far the largest trading market in the world.
The Forex market is 24/7, so the Forex Trading Strategies are different from the ones of other trading markets.
Fintechee helps traders design Forex Trading Strategies to be compatible with the Forex market. Traders can apply the strategies on our WEB Trader.
---
Problems
In traditional Forex trading platforms, traders often had problems:
The market movements are too fast to catch up with.
The spreads between the ask quotes and the bid quotes are too big to reduce the cost of trading.
The built-in technical indicators are not precise. There are no custom indicators.
Without a desktop, the expert advisor can't be used. The trading platform is installed on another PC at home.
Backtesting can't run multiple EAs simultaneously.
Algorithms for trading are too difficult to learn.
There is no expert advisor to ensure profit.
It's impossible to sign in to multiple accounts at the same time.
---
Why We Need Fintechee?
---
Solutions
The solutions below can help traders improve their trading environment, but still not enough.
"Automated Forex Trading" makes traders able to catch up with the market movements and helps Traders monitor the market movements 24/7.
"Trading Simulation" helps traders backtest and verify Forex trading strategies without taking any risk.
A FIX bridge plugin speeds up the data transfer.
---
Fintechee's Solutions
Fintechee's solutions are full-featured and improve Forex trading strategies in all aspects.
Fintechee's "Automated Forex Trading" solution is WEB-based. So it's platform agnostic. We can run an expert advisor on the mobile browser without downloading and installing it.
On Fintechee's WEB Trader, traders can develop their own custom indicators and expert advisors by "SDK trading".
Fintechee developed "Expert Advisor Studio" to help traders generate source codes of expert advisors to lower down the threshold of applying algorithms for trading.
Fintechee's "Trading Simulation" solution helps traders backtest multiple EAs simultaneously so that multiple EAs can be regarded as a portfolio. Traders can backtest a portfolio to verify their Forex trading strategies.
On Fintechee's WEB Trader, traders can send orders manually to engage with EAs while backtesting a portfolio.
Fintechee's WEB Trader integrates with artificial intelligence libraries to maximize the precision of analysis so that traders can gradually ensure profit.
Fintechee has built-in a FIX engine on the server-side(backend) to connect with more than 20 liquidity providers. The "FIX API Trading Platform" makes High-Frequency Trading(HFT) possible.
Fintechee's "Price Aggregator" solution supports multiple accounts management. Traders can sign in to different accounts simultaneously. Brokers can connect with different liquidity providers at the same time to aggregate streaming quotes and get the lowest spreads. This solution makes "Trading Arbitrage" possible and maximizes the benefit from Forex trading strategies.
---
Introduction of Fintechee
---
Main Features
Please read the introductions to know more features of our product.
If you have interest in cooperating with Fintechee or you have any questions, please contact us.
If you want to get notified about our updates, please subscribe to our free newsletter.