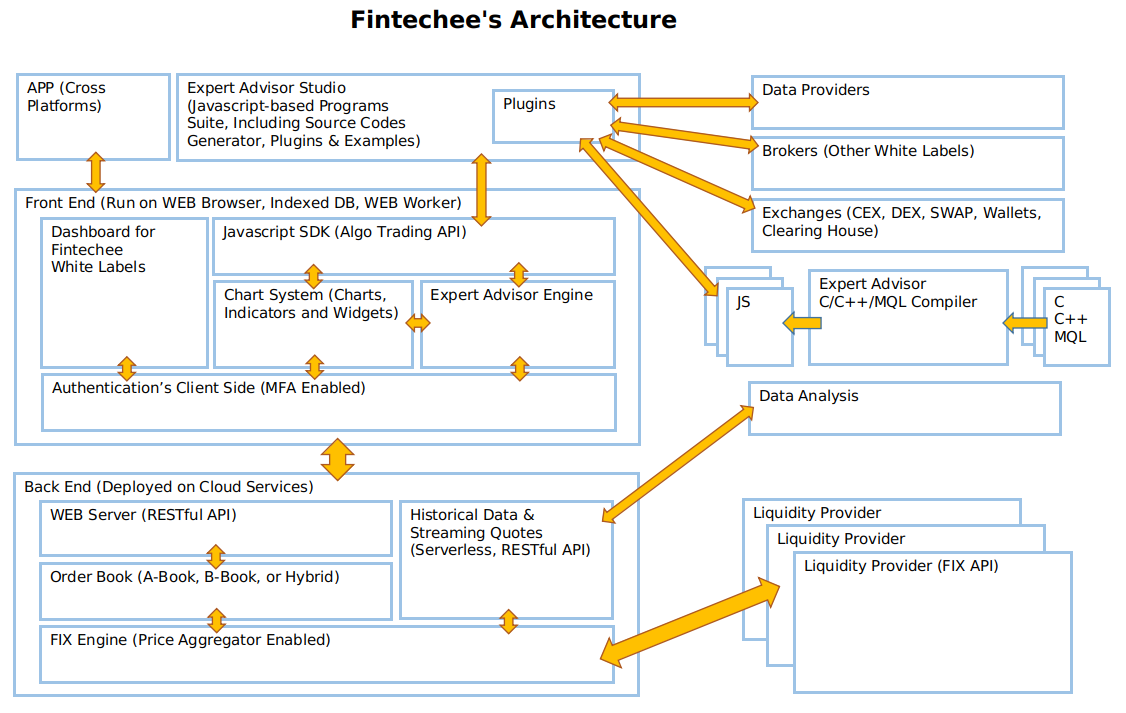 This post describes Fintechee's architecture. Fintechee is a Fintech company focusing on Financial Technology Field and provides a FIX API-based trading platform White Label for financial institutions, such as Forex OTC brokers, DeFi, crypto exchanges(including CEX, decentralized exchanges, DEX). Fintechee also provides an all-in-one FIX API trading platform and an Expert Advisor Studio for individual traders.
The main features of the Fintechee trading platform include Automated Trading, Backtesting a portfolio, and SDK Trading. All these features are WEB-based. The backend is attached with a FIX API engine as a bridge to work with Liquidity Providers and deal with Order Router Management, Price Aggregator.
To make individual traders enjoy an institution-like trading environment, Fintechee especially provides a FIX API trading platform individual version.
Let's explore these amazing features further.
---
Features
Javascript SDK, Compatible with C/C++/MQL
WEB-based
Custom Indicators (You can create Compound Indicators – make an indicator calculated based on another indicator)
FIX API individual version (You can access FIX API from your local PC straightforward. Your browser -> local Java Package -> FIX API)
White Label enabled
MFA - Multiple Factor Authentication
Dashboard for broker's manager
APP (Android)
Spread Betting supported
Price Aggregator (automated Order Router)
Multiple Accounts Management on the front end (useful for Trading Arbitrage)
Multiple Charts Management (responsive UI layout)
---
Extensibility
Fintechee is not only a platform to run Expert Advisors but a platform extending to integrate with all trading resources.
EA, Custom Indicator, or so-called Algorithms Trading is just a part of the whole ecosystem.
Our plugins(the components of Fintechee's Expert Advisor Studio Suite) can help users extend their business, and they are for free, no matter whether you are individual traders or financial institutions.
By using these plugins, you can get these benefits:
You can migrate your old source codes (based on C/C++/MQL) to Javascript-based programs (WebAssembly) and make them run on the WEB browsers.
You can import any data (historical/streaming) as long as you have data sources.
Market Maker Bot (You can send transactions to blockchains' SWAP smart contracts)
Integration with Crypto Wallets (Scatter & Metamask)
Integration with Artificial Intelligence (AI)
Integration with Exchanges (CEX, DEX, and Clearing House)
You can analyze Bitcoin or Ether's Options (Call or Put).
Source codes generator
Trading Arbitrage
You may have noticed that our sample EAs and technical indicators are delivered by a built-in Javascript file. With the increase of the file size, we can't put all examples in just one source file, it will make the loading time longer. So we create some repositories in Github and provide a better place to share our plugins and experience.
You can find them and our latest updates via the following links:
If you have any questions, please contact us via email.
If you want to get notified about our updates, please subscribe to our free newsletter.