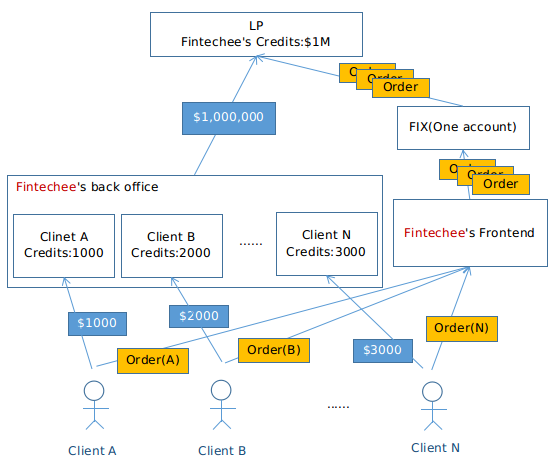 Fintechee provides White Label Broker Forex as Forex White Label Provider. Additionally, White Label Spread Betting Platform is a kind of Broker White Label that Fintechee offers.
As a Forex white label provider, Fintechee provides brokers with White Label which authorizes brokers to use Fintechee's WEB Trader which serves as a Forex trading platform. Fintechee's WEB trader includes a frontend package and a backend package.
The frontend has the features to make traders able to use Automated Forex Trading and Trading Simulation. The backend has the features to make the order router management connect with multiple liquidity providers via the FIX API Trading Platform. This feature is the so-called Price Aggregator. It integrates with the FIX API Trading Platform to aggregate different quote sources.
The biggest advantage of signing a white label broker Forex agreement with Fintechee is that the A-Book brokers and the Hybrid Model(A-Book & B-Book) brokers who sign with us as the white label broker Forex partnership can get the lowest spreads between the ask quotes and the bid quotes.
We have cooperated with more than 20 Liquidity Providers. And We have done testing the connectivities with all of them. Funds Management Institutions can have the chance to create a new broker integrating with their liquidity via our FIX API trading platform.
We can help you first connect with our liquidity provider partners, but not limited to them. ANY liquidity provider can be connected via our FIX API trading platform. You can specify your favorite liquidity providers as long as they support this kind of cooperation.
If you subscribe to our free newsletter, you will have opportunities to win free licenses to help institutions build free white label Forex broker and make a free Forex white label partnership.
We have many partners who help brokers get the license of being regulated under some jurisdictions, such as Cyprus, Cayman Islands,… We have many third-party payment gateway providers to manage deposit/withdrawal for brokers. Please note that the pricing below doesn't include the expense for the license and the payment gateway.
---
Business Model
A new broker can onboard by doing the following steps:
Create a company in some jurisdiction and get the license of being regulated under the jurisdiction.
Sign the white label broker Forex agreement with us to get authorized to use our WEB trader.
Sign the Omnibus agreement with a liquidity provider to get the liquidity.
Sign the agreement with a payment gateway provider.
---
Features
Please read the introductions to know more features of our product.
---
Liquidity Provider
Please check this material to know the liquidity providers who cooperate with us: Liquidity Provider.
---
Specialties of Our Liquidity Provider Partners
Our liquidity provider partners all have their own specialties.
"LMAX", "Swissquote" and "ATC Brokers" provide FIX API based MAM and Shared FIX API that make introducing brokers white-labelable.
"FXCM" supports FIX API based MAM technically, but we need to wait for the allowance of compliance.
We reached 3 more liquidity providers that support FIX API based MAM. Now we are discussing how to cooperate.
"Exante" provides Cryptocurrency FIX API that makes crypto OTC broker be able to be built.
"FXCM" and one another liquidity provider even provide a kind of FIX API connectivity that supports Spread Betting.
So, you can get a unique trading experience only here.
---
Pricing
| Features | Main White Label(WL) | White Label(WL) | Other Plans |
| --- | --- | --- | --- |
| Brand | ⭕ | ⭕ | |
| SDK Trading | ⭕ | ⭕ | |
| Custom Indicator | ⭕ | ⭕ | |
| Expert Advisor | ⭕ | ⭕ | |
| Backtesting | ⭕ | ⭕ | |
| Trading Simulator | ⭕ | ⭕ | |
| Parameters Optimizer | ⭕ | ⭕ | |
| Streaming Quotes | ⭕ | ⭕ | |
| Historical Data Downloading | ⭕ | ⭕ | |
| Multiple Accounts Management | ⭕ | ⭕ | |
| Multiple Charts System(WEB Based) | ⭕ | ⭕ | |
| Artificial Intelligence Integration | ⭕ | ⭕ | |
| FIX Engine | ⭕ | Shared with Main WL | |
| Trade Positions Management | ⭕ | ⭕ | |
| Order Router Management | ⭕ | Shared with Main WL | |
| Price Aggregator | ⭕ | Shared with Main WL | |
| RESTful API | ⭕ | ⭕ | |
| Dashboard(Back Office) | ⭕ | ⭕ | |
| Tech Support | ⭕ | ⭕ | |
| Hardware | ⭕ | Shared with Main WL | |
| Network Traffic | ⭕ | Shared with Main WL | |
| Monthly Maintenance Fees | Inquire Our Resellers | Inquire Main WL | |
| One Time Installation Fees | Inquire Our Resellers | Inquire Main WL | |
| Monthly Volume | Inquire Our Resellers | Inquire Main WL | |
| Money-Back Guarantee | | | |
| | Be Our Reseller | Be Our Reseller | Be Our Affiliate |
---
Alternative Solution
We provide you with an alternative solution. It requires much lower cost to build a trading platform for your brokerage business. It's called Family Trader.
---
Why Choose Fintechee?
A new brokerage is more compatible with our product. Why? Because other traditional trading platforms' expenses are too high for new brokerages. From the beginning, the new brokerage has to face low revenue but a high initial investment. If they can't get the reward as expected, they will take the risk on the fund chain. Every year, every new broker needs to pay more than $50k for the royalty fee of the broker white label. The cost doesn't include the license fee for being regulated under some jurisdiction and the operation fee for the firm. New brokerages have to share their resources. If they don't do that, they need to take over all the costs, all the risk. And finally, all the cost is transferred to the individual traders.
Nowadays the market movements gradually became smaller, the proportion of the cost grew up and affected the revenue for the traders. Obviously, this market needs some mechanism to hold the balance, otherwise, no trader would like to trade with the high cost and high risk. If traders leave the market, the liquidity would be affected as a result.
An alternative product with all the features which other platforms offer is a good way to solve the problem. New brokerages can save more money by paying much less fee and get as good service as the traditional platforms.
---
Cloud Services
We employ the third-party "Cloud Services" to deploy our trading platform. Please check this page to know more details.
If you have interest in signing the contract of the broker white label, please contact us.
If you want to get notified about our updates, please subscribe to our free newsletter.