Publish Your Signals
This tutorial is to introduce the investor mode and how to publish signals to gather followers in our trading platform.
Tutorial Video
Publish Your Signals.
Hello everybody. Today let's talk about how to open your account to the public and make your accounts visible and it can help you to gather more followers. You know a lot of traders need this kind of function. This kind of function is made to help them to make other traders follow their training records and it will help them to promote their market and they can get more clients to follow their signals.
In the Fintechee trading platform we provided this kind of function as well. So after you sign up and create a new account and you can open your records to the public. Of course the default option is private mode, so you don't open your trading records to the public. After you check the mode to publish the signals and your records will be open to the public.
It's very simple to do and just a click the user icon and open the accounts panel and you can see an option there.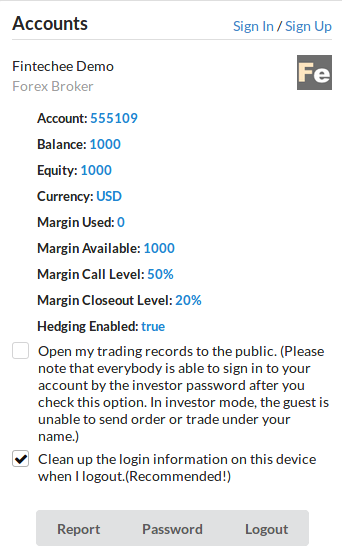 The option with long description shows you how to open your trading records. Just to check this option, then your account will be set to the state of being open to the public. So, now everyone, every other trader can see your trading records. If you don't check this option and your records will keep secret, and it will not be open to the public. It's safer, but you can not do business marketing activity, so they have merits and they have demerits as well. Of course you can share your records even in private mode as well. Because we provide investor password, so you can set your investor password. For example, you can set investor password by 'one two three four five six'(You should set complicated password in real trading world) and provide your investor password to your followers and then they can follow you. That's another method to open your trades or open your trading records to the specific groups. Today's topic is about how to open your records to the public. Hope you feel helpful. Thank you for reading and see you next time.